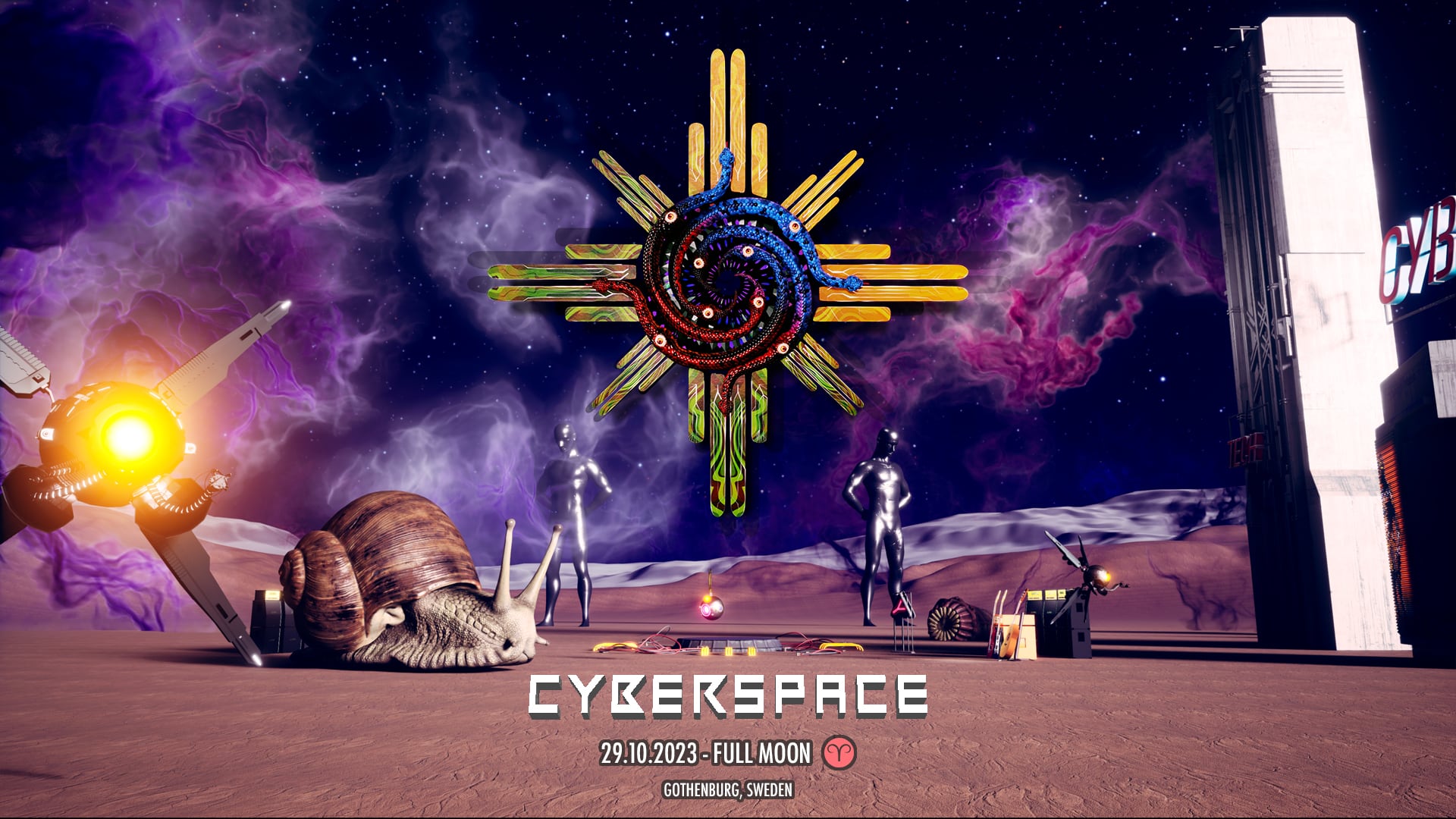 ---
The Cyberspace experience is about creating an alternative space for alternative minds!
We bring the digital and mystical dimensions, through the magic of creative art, motion, and conscious communication. 
What to expect: 
The Cyberspace prepares for 12 hours of a unified experience starting with workshops, jamming, food, and mingles! We are to create a friendly space and connect with every one of you before the madness begins and our dance floors take off! Therefore, to experience the essence of the community and receive a special treat, we highly recommend you plan to be there from the very beginning! 
The evening begins with our workshop programs, handpan exhibition, and experimental live set and jamming, where quality food and refreshments will be served to spice up the experience before we officially open our dance floors!
There are going to be two dance floors (outdoor/indoor) with live acts and DJs creating a hypno-psychedelic ambiance in which the cyber-cultural experience unfolds! A groovy chill-out lounge will be prepared for hangouts and fun activities!
There are going to be many elements involved to take the experience to the next level. This is not only a party, It is a space to tap into the modern counterculture experience.
---
>Software Stage:
 MoR URKRAFT
 (Poetic Sound journey):
https://instagram.com/mor_urkraft?igshid=MzRlODBiNWFlZA==
Ashkan ONP
 – Electro-acoustic live performance:
Amanda
– Melodic Techno:
Hedström
– PsyTech:
Ashkan ONP
– Hypnotic Techno:
>Hardware Stage:
ARI3L 
 – Minimal Psy (Psychedelic Gnosis Records):
Psybernautix 
 – Psytrance (Psychedelic Gnosis Records):
Aum Shanti (Live) 
 – Psytrance (Protoned Music):
Azgeir
– Psytrance (Maharetta Records):
Oyram 🇸🇪 Psytrance (Atmotech Records):
---
Arkane Experience Design
---
Live Painting 
---
Tickets are available now, you can buy them using the link below:
Event details
Buy ticket
Register here!